I
've been in Kiev just over one full week and the excitement of Eurocup has not disappeared. I work 9-6 and recently, I've been

spending most of my evenings watching the soccer games in the official Fan Zone.
The Swedish lost to Ukraine this week. Being in the fan zone surround by thousand of Swedish fans and even more Ukrainian fans screaming "UUU-KRAIII-HAA" at the top of their lungs can only be described as madness and...well, loud.
These are Ukrainian...or are they Swedish fans? It was hard to tell considering that Sweden and Ukraine's colors are practically identical.
This week at DRC was relaxed. The pressure of the 2013-2015 project proposal had subsided and the EuroVillage passed with success. Our boss went on a business trip to DRC headquarters to Copenhagen and the office was quieter and more relaxed than my first week. I took this week to complete my required online training courses.
I had to get certified in Rights for Refugee and Asylum Seekers and in Children Refugee Rights. These courses explained in depth refugee and asylum processes. So if you have any questions on refugee rights- for children or adults, please feel free to email me. ;)
I explored a lot of Kiev this week, visiting the Dnieper riverside, St. Andrew's Cathedral and St. Andrew's Decent.
Dnieper River
Fun Fact: St. Andrew's church was
commissioned by Catherine the Great
for her Ukrainian lover in the 18th CE.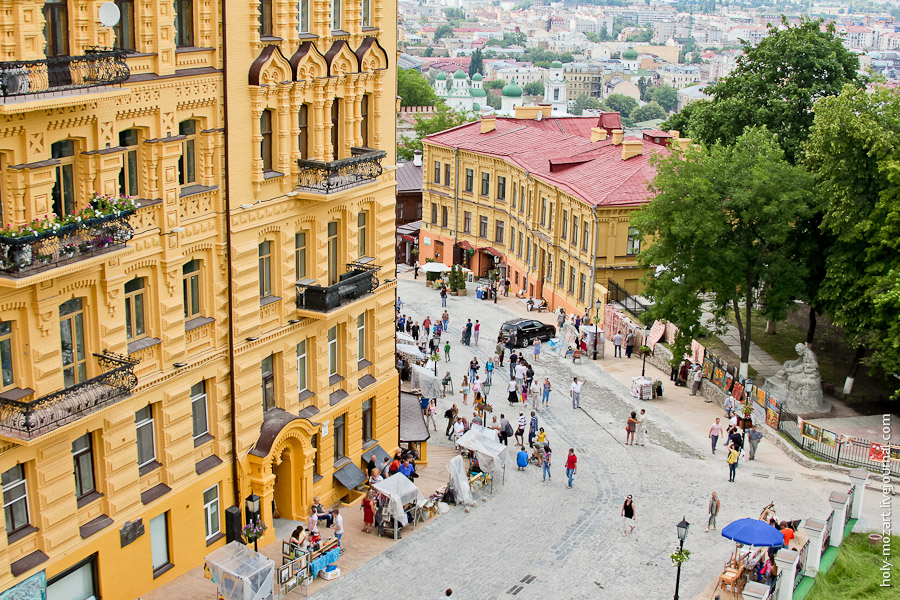 St. Andrew's Decent is a beautiful tourist attraction. Its a long downhill cobblestone road that winds down steeply around Zamkova Hora hill. Souvenir shops selling handmade items are everywhere. The Decent contains the Castle of Richard the Lionheart, St. Andrews Church and Mikhail Bulgakov's house (among other famous Russian writers).
Aside from the random thunderstorms, I had a beautiful and calm week in Kiev. A welcomed relaxation period after the jet-lag and busy schedule of the previous few days.
Poka! (Casual Russian "good-bye", equivalent to "cao!")
-Bojana